STUDIO RECORDINGS | MIDI DRUMS | PERCUSSION | PRICING | CONTACT
DRUM STUDIO RECORDINGS
Looking to hire a professional drummer to record drum tracks for your music? I have a fully equipped drum studio at my disposal. I'm specialized in heavy and extreme metal, but I'm able to play a lot of different genres.
HOW IT WORKS
You don't need to rent out an expensive studio for your drum recordings; I have everything here at Studio Skillpero. Just send me your music and I'll send you fully edited, multi track recorded drums. Need digital MIDI drum tracks or loops? I can create those for you too. Here's what I can offer:
Acoustic drum recordings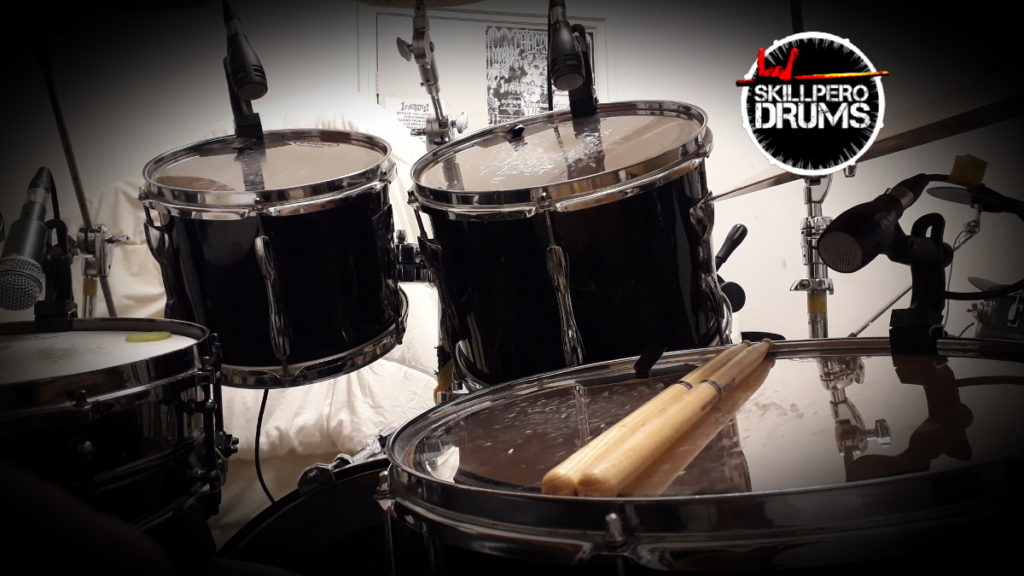 2x Overhead
4x Toms
2x Bass Drum (mic)
2x Bass Drum (triggered)
1x Snare Top
1x Snare Bottom
1x Ride
2x Hi-Hat
Digital drum recordings
Do you need digital drum tracks or loops for your music productions? I will play them on my Roland electronic drum kit and send them to you in MIDI format, so you can loop them how you like, change the tempo and use your own drum sounds.
CUSTOM MARCHING DRUMS & PERCUSSION TRACKS
Power up your tracks with some pounding war drums, get that tropical touch with various Latin percussion instruments and add some skillfully played marching snares while you're at it. I do full acoustic recordings in the studio or other suitable location, as well as electronic kit MIDI recordings. Whatever the method of recording, it's all human played by yours truly and that's what will set apart your tracks from any other clicked-in, straight-on-the-line percussive endeavor.
PRICING
No on-size-fits-all packages
As every project is different, I do not work with one-size-fits-all packages. The price for recording drums depends on many factors, like the complexity and length of the track(s), creative demands and liberties, technical demands, the time frame etc.

Drum recording process
Before I start working on the drums for your track(s), we'll talk about how the result should be, what accents and fills should be exactly like the demo and where there's room for creativity, establish technical standards, that kind of stuff.
We will also agree on how many rounds of feedback there will be until the final version. However, I always aim to lay down the best drums I'm able to produce.
You will receive a sound check file, which is usually a full track or a part of it, which you can use to evaluate the sound quality and specs, as well as my approach to your music. If needed, I'll make the necessary changes. Then I'll start recording the entire project.
What you get
I deliver you 9-16 separate tracks, usually at least: kicks, snare top, snare bottom, toms 1-4, overheads L & R, Hihat. Trigger signals, midi and/or additional drum/percussion instruments are optional.

The method of recording can be negotiated too, although I will have last say in that. I'll do whatever gets you the best result.
Get in touch with your recording drummer